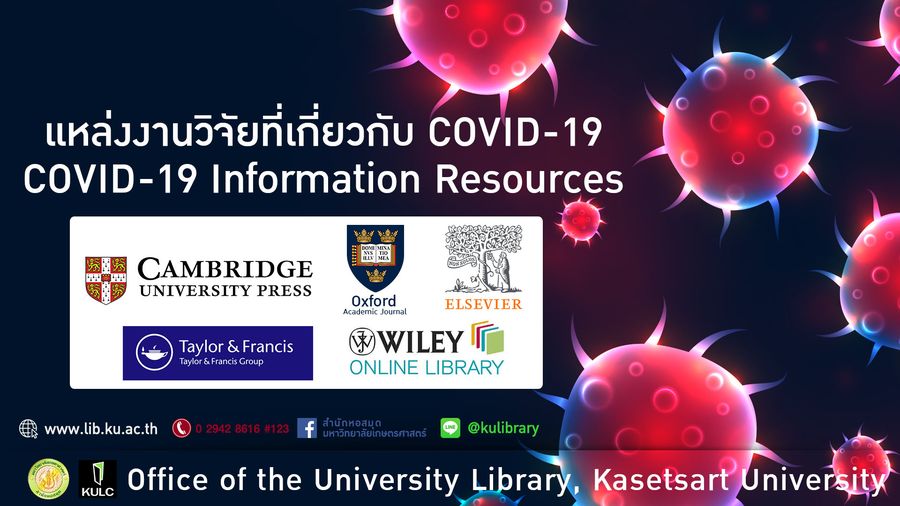 สำนักหอสมุด มหาวิทยาลัยเกษตรศาสตร์ รวบรวมแหล่งงานวิจัยที่เกี่ยวข้องกับ COVID-19 จากฐานข้อมูลที่น่าเชื่อถือ ที่นิสิตและบุคลากร มหาวิทยาลัยเกษตรศาสตร์ รวมทั้งบุคคลทั่วไปสามารถเข้าอ่านและดาวน์โหลด Full-Text ได้ฟรี
*** วารสาร/บทความบางเล่ม มก. ไม่ได้บอกรับ แต่เฉพาะช่วงนี้ สามารถอ่านและสามารถดาวน์โหลดได้
ศูนย์ทรัพยากรและข้อมูลเกี่ยวกับ Coronavirus (COVID-19) ของ EBSCO

เข้าถึงเนื้อหาเชิงประจักษ์ ข้อมูลโรค และอ่านบล็อกล่าสุดจากผู้เชี่ยวชาญทางการแพทย์ของ EBSCOได้ฟรี พร้อมทั้งลิงก์ไปยังแหล่งข้อมูลสำคัญจากภายนอก >>> http://bit.ly/EBSCO-covid19
ฐานข้อมูล Cambridge Core >>> https://bit.ly/CambridgeCoreCovid19
ฐานข้อมูล Oxford Academic Journal >>> http://bit.ly/Oxfords-covid19
ฐานข้อมูล ScienceDirect
ดาวน์โหลดข้อมูลกว่า 2,500 titles จาก Elsevier Novel Coronavirus Information Center ได้ฟรีไมอั้น
Journal Articles (รวม Lancet Coronavirus hub)
Book Chapter
Early-stage research & แหล่งข้อมูลเกี่ยวกับการวิจัยยา
ดาวน์โหลดได้ที่ >>> http://bit.ly/Elsevier-coronavirus-information-center
ฐานข้อมูล Taylor and Francis >>> http://bit.ly/TandF-covid19-update
ฐานข้อมูล Wiley Online Library >>> http://bit.ly/Wiley-covid19
ฐานข้อมูล DynaMed >>> http://bit.ly/Dynamed-covid19
สำนักพิมพ์ OVID : COVID-19 Tools & Resources for Clinicians >>> http://bit.ly/Ovid-covid19
สำนักพิมพ์ OVID เปิดให้เข้าใช้ฐานข้อมูลที่สำคัญ 5 ฐานเป็นระยะเวลา 60 วัน ดังด้านล่างซึ่งให้บริการฟรีไม่มีค่าใช้จ่ายใดๆ กรุณาคลิกที่ลิงค์เพื่อแจ้งความประสงค์ของเข้าใช้งาน >>> http://bit.ly/OvidTools
วิธีการเข้าใช้
เลือกฐานข้อมูลที่ต้องการอ่าน
คลิก Request Access เพื่อลงทะเบียนแจ้งความประสงค์ขอใช้งาน โดยทาง Ovid Customer Support team จะตอบเมลกลับไปหาผู้ใช้ที่ลงทะเบียนแต่ละท่านโดยตรง

ฐานข้อมูลทั้ง 5 ประกอบด้วย
LWW Medical Education Health Library หนังสือเรียน เพื่อสนับสนุนการเรียน การสอนทางไกล

Premium Basic Sciences Collection (any other collection can also be added on request - https://lwwhealthlibrary.com/meded)

Acland's Atlas of Human Anatomy กายวิภาคเพื่ออธิบายรอยโรค
Bates' Visual Guide to Physical Examination ฐานข้อมูลเพื่อการเข้าหาและการปฏิบัติต่อผู้ป่วย ที่เหมาะสม
5 Minute Clinical Consult ฐานข้อมูลเพื่อการการวินิจฉัยโรคอย่างรวดเร็ว
GIDEON – Global Infectious Diseases & Epidemiology Network ** ศูนย์รวมข้อมูลด้านโรคติดเชื้อและการระบาด ***
ฐานข้อมูล CABI >>> http://bit.ly/CABICovid19
วิธีการเข้าใช้
คลิก Access free content
ลงทะเบียนโดยใช้ Redeem a Voucher ใส่ code CV4Y85D5JG9
สำนักพิมพ์ Gale >>> https://www.gale.com/intl/covid19support
ภายในประกอบด้วย 4 ฐานข้อมูล
---
All Kasetsart University students and staff, as well as public are welcomed to the COVID-19 Information Resources provided by leading publishers. Full-text is available for download.
*** Some journals / articles are not subscribed by KU Library but opened for access during this period ***
EBSCO Coronavirus (COVID-19) Information Center
Cambridge Core >>> https://bit.ly/CambridgeCoreCovid19
Oxford Academic Journal >>> http://bit.ly/Oxfords-covid19
ScienceDirect
Free download of 2,500+ titles from (ribbon) Elsevier Novel Coronavirus Information Center.
Taylor and Francis >>> http://bit.ly/TandF-covid19-update
Wiley Online Library >>> http://bit.ly/Wiley-covid19
DynaMed >>> http://bit.ly/Dynamed-covid19
OVID Publishing : COVID-19 Tools & Resources for Clinicians >>> http://bit.ly/Ovid-covid19
OVID Publishing opens to 5 major databases for 60 days with free of charge. Please click here >>> http://bit.ly/OvidTools to request access
How to access
Choose the database you like to access
Click Request Access and register. Ovid Customer Support team will send you an email directly

5 databases includes:
LWW Medical Education Health Library provides interactive online access to essential texts, images, real-life case studies, and quiz banks specifically tailored for the specialty.
Acland's Atlas of Human Anatomy Realistic, yet simple, fresh-tissue, video-based anatomy that can be used when dissections/cadaver labs are not available for students.
Bates' Visual Guide to Physical Examination Delivers head-to-toe and systems-based physical examination techniques for the (Advanced) Assessment or Introduction to Clinical Medicine course.
5 Minute Clinical Consult Helps physicians and healthcare professionals provide the best patient care by providing quick answers they can trust
GIDEON – Global Infectious Diseases & Epidemiology Network ** This one-of-a-kind resource covers all infectious diseases in every country.***
CABI >>> http://bit.ly/CABICovid19
How to access
Click Access free content
Register, then use Redeem a Voucher with code CV4Y85D5JG9
Gale Publishing >>> https://www.gale.com/intl/covid19support
Includes 4 databases