---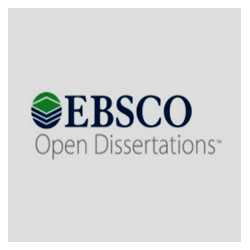 EBSCO Open Dissertations ให้ข้อมูลวิทยานิพนธ์กว่า 500,000 รายการ จาก 25 มหาวิทยาลัยชั้นนำของโลก ตั้งแต่ปี 1955- ปัจจุบัน
EBSCO Open Dissertations is a collaboration between EBSCO and BiblioLabs to increase traffic and discoverability of ETD research. This new collaboration extends the work started in 2014, when EBSCO and the H.W. Wilson Foundation created American Doctoral Dissertations which contained indexing from the H.W. Wilson print publication, Doctoral Dissertations Accepted by American Universities, 1933-1955. In 2015, the H.W. Wilson Foundation agreed to support the expansion of the scope of the American Doctoral Dissertations database to include records for dissertations and theses from 1955 to the present.
---
KU E-Thesis วิทยานิพนธ์มหาวิทยาลัยเกษตรศาสตร์ สามารถสืบค้นและดาวน์โหลดเอกสารฉบับเต็มได้จากฐานข้อมูลทรัพยากรห้องสมุด (KU Library Catalog) เช่นเดียวกับการสืบค้นหนังสือและสื่อสิ่งพิมพ์ประเภทอื่นๆ

ตั้งแต่ 1 กรกฎาคม 2562 เป็นต้นไปนิสิตและบุคลากร มก. สามารถดาวน์โหลดเอกสารฉบับเต็มได้ โดยใช้เครื่องที่ให้บริการในสำนักหอสมุด กรณีสืบค้นจากนอกสำนักหอสมุด สามารถเข้าใช้โดยผ่าน EZproxy ส่วนบุคลากรจากสถาบันอื่นสามารถดาวน์โหลดวิทยานิพนธ์ มก. ฉบับเต็มได้จากฐานข้อมูล TDC หรือ ขอใช้บริการสำเนาเอกสารระหว่างห้องสมุดหรือมาติดต่อด้วยตัวเองตามเวลาทำการของห้องสมุด

KU E-Thesis, Kasetsart University dissertations and theses can be searched and downloaded PDF full-text via KU Library Catalog. KU E-Thesis full-text is restricted to KU students and staff only. For public users please go to TDC database to get KU Thesis full-text or use Inter-Library Loan service or contact directly at the KU Library.

[Search Guide]
---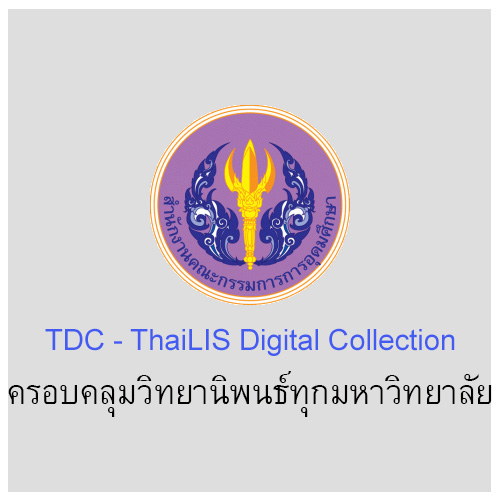 TDC (ThaiLIS Digital Collection) ฐานข้อมูลเอกสารฉบับเต็มในรูปอิเล็กทรอนิกส์ ประกอบด้วย วิทยานิพนธ์ งานวิจัย บทความวารสารและหนังสือหายาก ที่มีอยู่ในห้องสมุดมหาวิทยาลัย/สถาบันต่างๆ ที่เป็นสมาชิกของเครือข่ายห้องสมุดสถาบันอุดมศึกษาไทย (ThaiLIS) ของสำนักงานคณะกรรมการการอุดมศึกษา (สกอ.) นิสิตและบุคลากร มก. สามารถสืบค้นและดาวน์โหลดวิทยานิพนธ์ฉบับเต็มมหาวิทยาลัยอื่นๆ ในประเทศไทยได้จากฐานข้อมูลนี้ ส่วนบุคคลทั่วไปต้องสมัครสมาชิกก่อนจึงจะสามารถดาวน์โหลดเอกสารฉบับเต็มได้
TDC (ThaiLIS Digital Collection) , Provides access to electronic format of dissertations, theses, journal articles and rare books from the university/institution libraries which are ThaiLIS (Thai Library Ingegrated System) members. For off-campus access, please use VPN. For public users, the download will be allowed after registration.