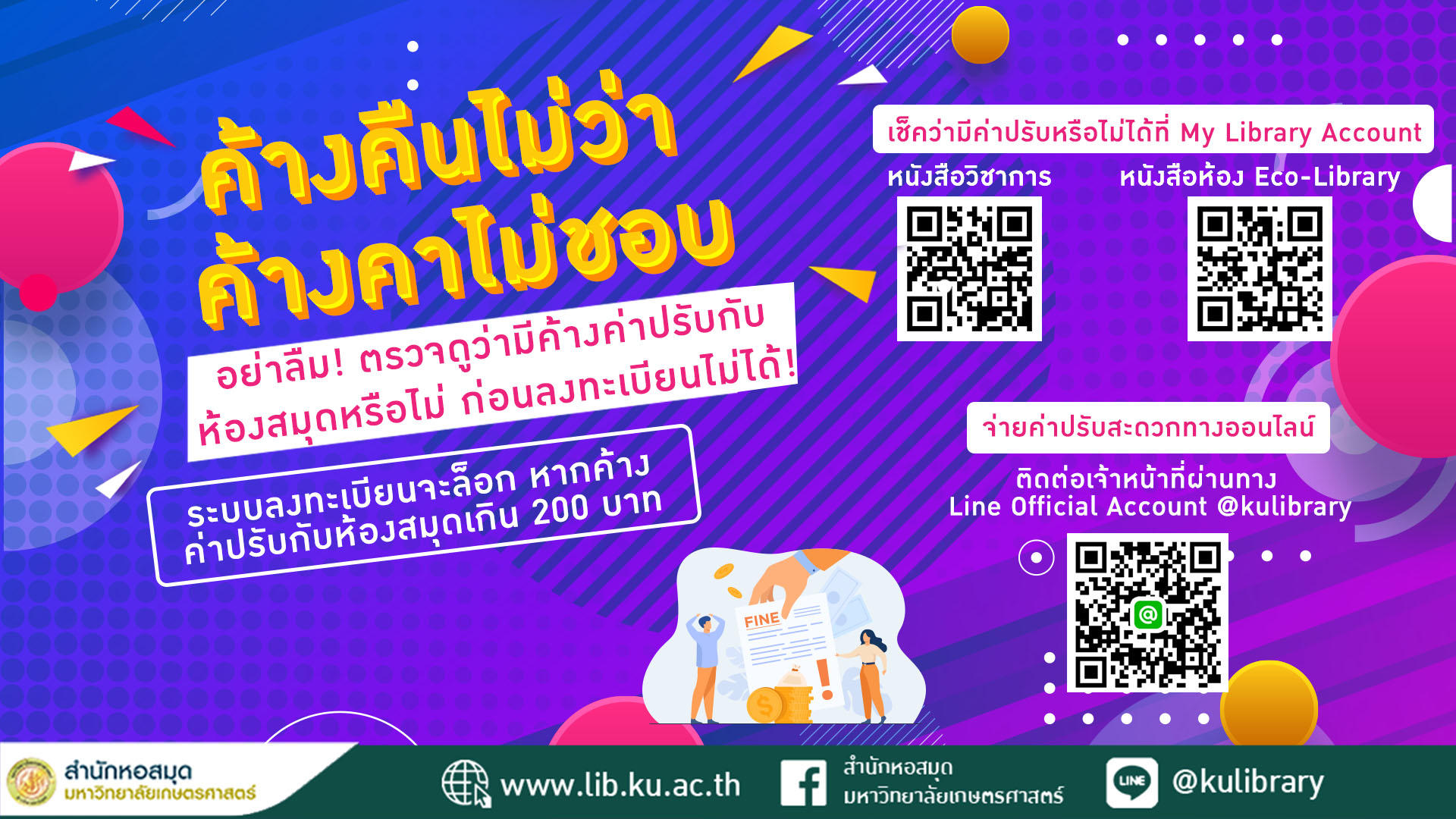 หนังสือวิชาการ: http://bit.ly/2PJ5r5U
หนังสือห้อง Eco-Library : http://bit.ly/2qvPgkp
อย่าลืม ตรวจดูว่ามีหนังสือและค่าปรับค้างกับห้องสมุดเกิน 200 บาทหรือไม่ ก่อนถึงวันลงทะเบียนเรียนเทอมหน้า
หากมีหนังสือเกินกำหนดส่งและมีค่าปรับเกิน 200 บาทขึ้นไป จะไม่สามารถเข้าสู่ระบบลงทะเบียนเรียนได้
กรุณาดำเนินการตรวจสอบดังนี้
1. ตรวจดูประวัติการยืม ว่ามีหนังสือเกินกำหนดส่งและมีค่าปรับค้างชำระเกิน 200 บาทหรือไม่ >> My Library Account >> วิธีการตรวจสอบ >> https://bit.ly/3FlymFG
2. นำหนังสือเกินกำหนดส่งมาส่งคืนห้องสมุด โดยส่งคืนทางไปรษณีย์หรือหย่อนตู้ Book Drop ดูรายละเอียด >> >> https://bit.ly/3GBmBwm
3. ชำระค่าปรับหนังสือเกินกำหนด โดยชำระด้วยตนเองหรือผ่านทางออนไลน์ ได้ที่ Line @kulibrary >> http://bit.ly/2QWKl6u
**ควรดำเนินการก่อนถึงวันลงทะเบียน ล่วงหน้า 3 วัน
สอบถามข้อมูลเพิ่มเติม ได้ที่ Line @kulibrary >> http://bit.ly/2QWKl6u
---
Please note if you have books that are overdue or fines exceeding Bt 200, you will be unable to register for the next semester's classes. Please follow the below steps:
1. Go to My Library Account and see your borrowing history >> https://bit.ly/3FlymFG
2. Return the overdue books. 2 ways to return >> https://bit.ly/3GBmBwm
3. Pay for the overdue items >> Contact library via this Line chat.
Recommend to process in advance or 3 days before registration date.
For more information, please contact the library via Line @kulibrary >> http://bit.ly/2QWKl6u