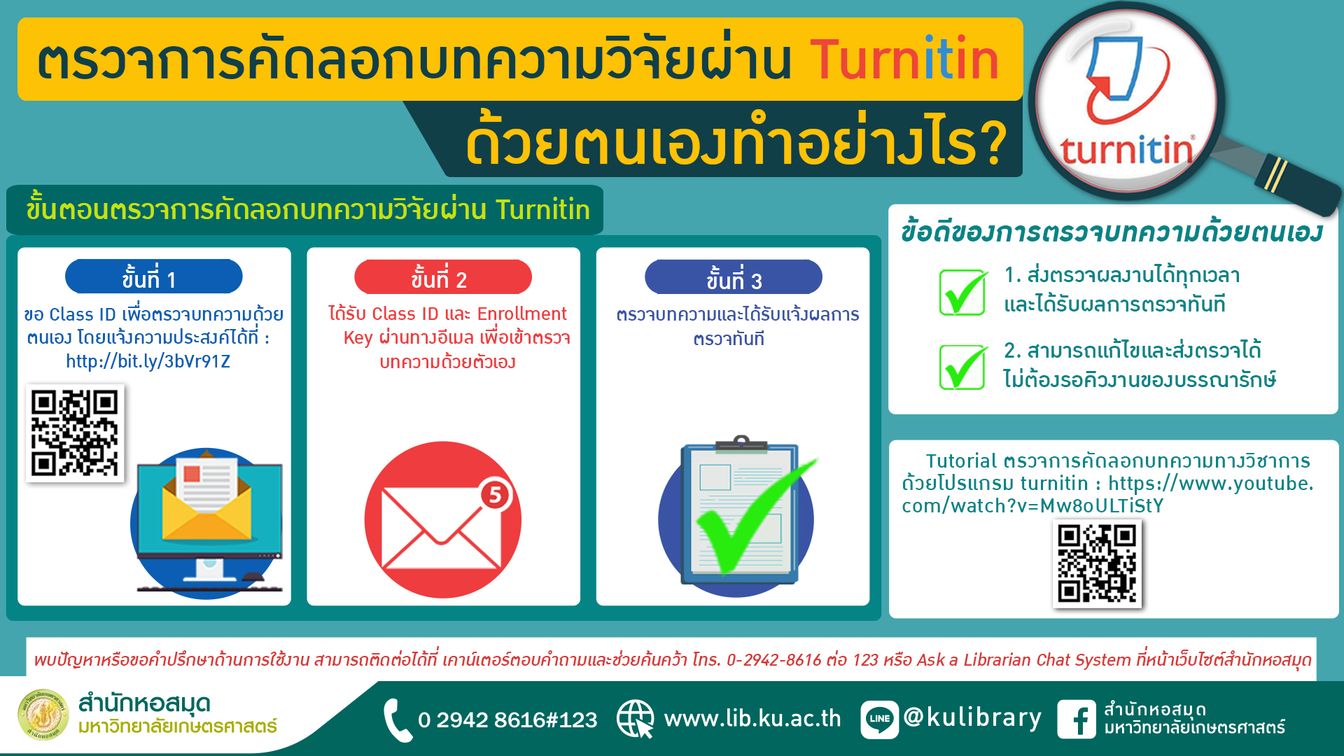 ขั้นตอนการตรวจการคัดลอกบทความวิจัยผ่าน Turnitin (บริการนี้สำหรับนิสิต บุคลากร มก. เท่านั้น)

การตรวจด้วยตนเอง

1. ขอ Class ID เพื่อตรวจบทความด้วยตนเอง โดยแจ้งความประสงค์ได้ในแบบฟอร์ม หรือ This email address is being protected from spambots. You need JavaScript enabled to view it.

(ระบุ ชื่อ-นามสกุล ภาษาอังกฤษ และคณะ / หน่วยงาน ที่สังกัด)

2. ได้รับ Class ID และ Enrollment Key ผ่านทางอีเมล เพื่อเข้าตรวจบทความด้วยตัวเอง

3. ตรวจบทความและได้รับแจ้งผลการตรวจทันที

ข้อดีของการตรวจบทความด้วยตนเอง

1. ส่งตรวจผลงานได้ทุกเวลา และได้รับผลการตรวจทันที
2. สามารถแก้ไขและส่งตรวจได้ ไม่ต้องรอคิวงานของบรรณารักษ์

=====

การส่งไฟล์ให้ห้องสมุดตรวจให้
1. เตรียมไฟล์เอกสาร ขนาดไม่เกิน 100 MB และไม่เกิน 800 หน้า
2. ส่งเอกสารทางแบบฟอร์ม (กรุณาใช้อีเมล @ku.th)
3. รอรับผลตรวจ (ภายใน 1 วันทำการ)


===
Tutorial วิธีการตรวจการคัดลอกบทความทางวิชาการด้วยโปรแกรม Turnitin

https://www.youtube.com/watch?v=Mw8oULTiStY

===
พบปัญหาหรือขอคำปรึกษาด้านการใช้งาน สามารถติดต่อได้ที่ โทร. 02-940-5847 หรือ Ask a Librarian Chat System ที่หน้าเว็บสำนักหอสมุด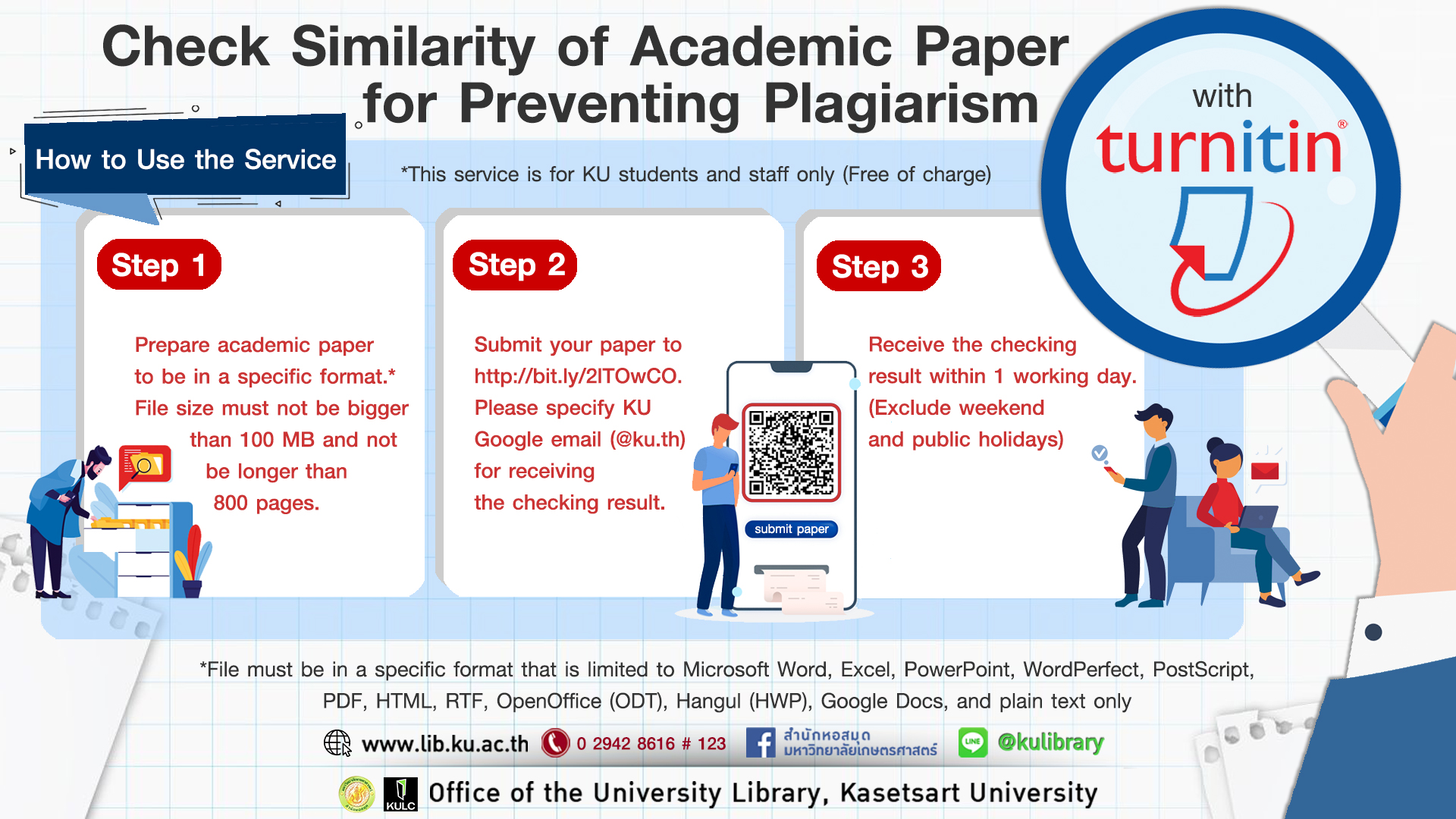 KU Library provides service of similarity checking of academic paper for preventing plagiarism with Turnitin program. Those who are interested in using the service may follow the instruction below.
How to use the service


Step 1
Prepare academic paper to be in a specific format that is limited to Microsoft Word, Excel, PowerPoint, WordPerfect, PostScript, PDF, HTML, RTF, OpenOffice (ODT), Hangul (HWP), Google Docs, and plain text only
File size must not be bigger than 100 MB and not be longer than 800 pages
Step 2
Submit your paper to http://bit.ly/2lTOwCO
Please specify KU Google email (@ku.th) for receiving the checking result.
If you submit many papers and would like to cancel the previous ones or want to recheck the paper, please note in "Special Requirement", such as, please cancel the paper checking sent on (Date) / I would like to check this paper, too, etc.
Step 3
Receive the result within 1 working day. (Exclude weekend and public holidays)
Remarks In case there are many papers in the checking queue, there might be some delay in return the checking result. The librarian will process by first-in- first-out according to Timestamp in Google Form.
For more information, please contact, Tel: 02-940-5847 or LINE @kulibrary >>> LINE @kulibrary